Raj Patcha, M.D., P.C.
F.A.C.C., F.C.C.P., F.A.C.P., F.S.C.A.I.
Founder and President of Huntington Heart Center, Director of Cardiac PET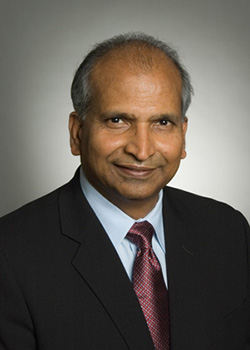 Dr. Raj Patcha is an interventional cardiologist who is Board Certified in Internal Medicine, Cardiovascular Diseases, Interventional Cardiology and Nuclear Cardiology.
He did his training at Beekman Downtown Hospital, New York, Cooper Medical Center, Rutgers, New Jersey, State University at Stony Brook, and North Shore University Hospital NYU School of Medicine.
Dr. Patcha is an attending interventional cardiologist at Huntington Hospital, North Shore University Hospital at Manhasset, South Side Hospital and St. Francis Hospital.
He has maintained a private practice in the Huntington area for approximately 30 years. Currently Dr. Patcha is the Director of the Cardiac Catheterization Laboratory at Huntington Hospital as well as the Director of the hospital's Interventional Cardiology Program. He is a fellow of the American College of Cardiology, the American Society of Nuclear Cardiology, American College of Physicians, American College of Chest Physicians and the Society for Cardiac Angiography and Interventions.
E-mail Dr. Patcha: rpatcha@huntingtonheartcenter.com